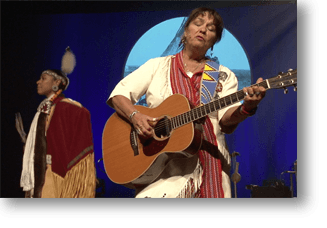 The Spirit Sings is based on the Western Canadian music history. A colorful spectacle. A story of the Canadian Métis told with integrity. The Métis is a unique population with its own language and culture and is a mixture of Aboriginal, Scots-Irish and French blood.




These three bloodlines had an enormous influence on musical culture of the Métis. The proud Indians in their colorful costumes and the inimitable rhythms and dances. The Celts with tight rhythms and wailing sound of the bagpipes and finally the French with their stirring violin and frivolous play of Jigs and Reels. The Metis culture.

The story begins with the proud but tragic song "Voices On The Wind", a tribute to all the great Native leaders like Sitting Bull and Crazy Horse, but also Louis Riel, the great Métis rights fighter late 1800. Their pride, their struggle and the downfall in their resistance against the Western occupiers.

What happened to the Country Wives, the Native women who taught the white man to survive. With their mixed race children abandoned by their own people after their white man returned to his homeland and his own family. It tells about the special agreement between the Indians and the Scots, a people who understand each other and tried to build a peaceful society. The first immigrants, the French or Acadians, brought their culture with dance in their frivolous fiddle play.
This musical project is a collaboration between several Canadian artists who all share a rebellious Métis blood in them. Today, just over 1% of Canada's Métis population.

The cast of this production is led by the Métis singer-songwriter Laura Vinson and initiative taker and writer of the production and the songs.